Youth from over 30 countries call to act for flyway conservation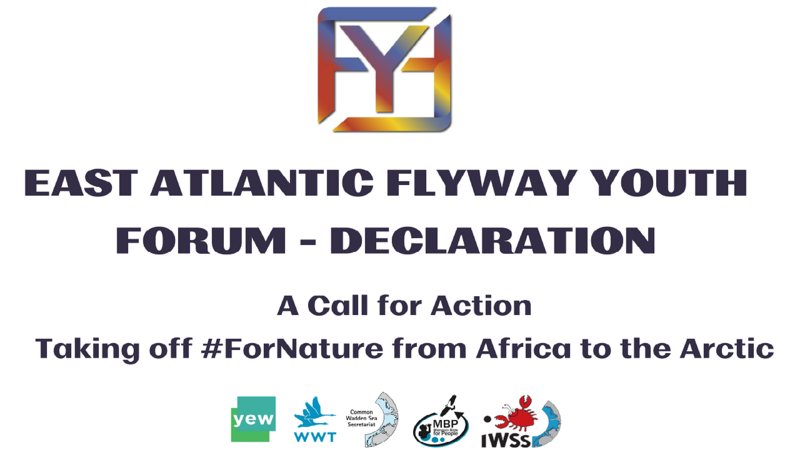 Under the theme 'Taking off #ForNature from Africa to the Arctic' young people from over 30 countries have come together for the first East Atlantic Flyway Youth Forum. This Flyway Youth Forum explored challenges that migratory birds and their wetlands habitats are facing and discussed how greater communication and cooperation between youth and across generations can help wetlands, migratory waterbirds, and youth across the flyway.
The outcomes of the discussions have now been published in form of a Declaration calling not just young people but other stakeholders in the flyway too.
This came about when a dedicated and enthusiastic group of ten young conservationists from along the flyway took on the role as 'Flyway Ambassadors' to take the Forum's results to the next level. The declaration calls out to other young people to join and take actions for flyway conservation, but also to stakeholders and politicians to work with youth from local communities connected through the flyway. Their main message is "We, the young people, are the key to sustainable long-term developments. It is time to act together for the protection and conservation of wetlands and migratory birds".
The declaration took to heart the words of Martha Rojas Urrego, Secretary General of the Ramsar Convention, in her keynote speech at the Flyway Forum: "With the biggest stake in our planetary future, the voices of youth need to be heard to change the hearts and minds and to drive political change and scale up investments in wetland conservation".
The East Atlantic Flyway Youth Forum was organised by Youth Engaged in Wetlands, the Wildfowl and Wetlands Trust and the Common Wadden Sea Secretariat within the framework of the Wadden Sea Flyway Initiative.
#EAFYFwetlands #FlywayYouthForum #YouthVoices