New Wadden Sea Explorer App helps find hiking tours along the World Heritage site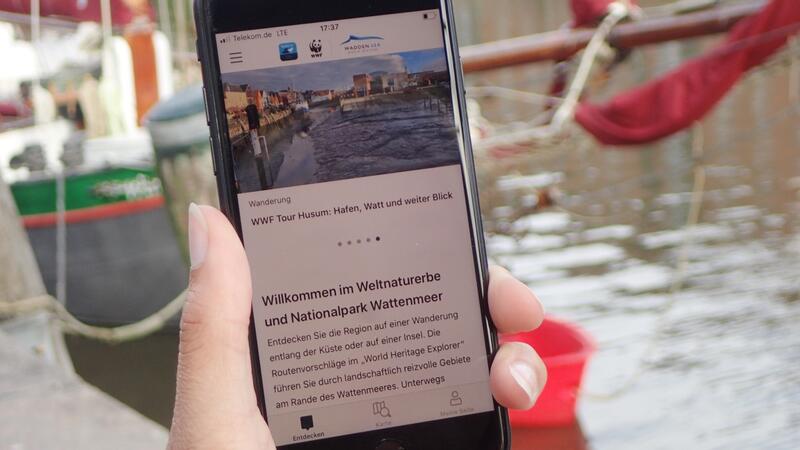 A hike along the "tidal path", resting with migratory birds or walking along a dune lake - there is a lot to discover in the UNESCO Wadden Sea World Heritage at the North Sea coast. In cooperation with the Common Wadden Sea Secretariat, the WWF has now developed the "Wadden Sea Explorer" as a digital tour guide app. Various route suggestions from the Wadden Sea region are available in the app. The special features of the unique region can be explored individually on short walks or tours lasting several hours.
The app initially offers 25 tours in the North Frisian and Danish Wadden Sea region in German and Danish. The routes lead through scenic areas on the islands and on the mainland. Along numerous waypoints there are interesting facts to be learned about nature and culture. Depending on your preference, there are routes for walking or hiking that are suitable for families with children, but also for individual or group travellers who are motivated to exercise. Especially in times of Corona, visitors can find their way to exciting corners of the World Heritage even without booked and organized tours.
Gradually, the current offer will be expanded to the other Wadden Sea regions and corresponding languages. For this, the Common Wadden Sea Secretariat serves as facilitator, and invites all interested partners in the entire Wadden Sea to come forward with additional hiking routes in their regions for inclusion in the Explorer.
The Wadden Sea Explorer is available free of charge for Android and iOS and is now available for download in the corresponding app stores. All tours are also available online.
The hiking tour portal was developed as part of the German-Danish Interreg 5a project "NAKUWA - Sustainable Nature and Cultural Tourism at the UNESCO Wadden Sea World Heritage Site" and funded by the European Regional Development Fund as well as BINGO! Project Funding Schleswig-Holstein.