Fundraising focus of Second East Atlantic Flyway Youth Forum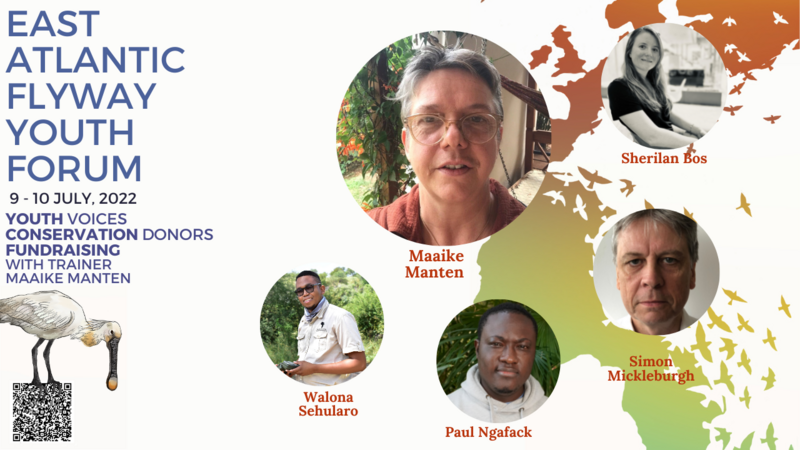 The 2nd East Atlantic Flyway Youth Forum (EAFYF) took place on 9 and 10 July 2022. More than 30 young people, aged 18-30, from along the East Atlantic Flyway signed up for the event, which focused on building youth capacity in project development and writing grant proposals. The idea for the fundraising training was developed based on the experiences and discussions at the EAFYF 2021. The declaration drafted by forum participants was a call for action, but also revealed that funds were urgently needed to implement activities on the ground and to ensure the outcomes are sustainable. Fundraising consultant Maaike Manten was guiding the fun and interactive training, supported by first hand-experience shared by applicants and donors in the afternoon sessions.
The 1st day of the forum provided a platform for young conservationists Paul Ngafack and Walona Sehularo to share their inspiring experiences in the development and implementation of their conservation projects.  On the 2nd day, the participants learned about a donor's perspective and expectations on grant applications, insights provided by Simon Mickleburgh from the Rufford Foundation and Sherilyn Bos from BirdLife International, working for the Conservation Leadership Programme.
The participants, both new and familiar faces from the 2021 Flyway Youth Forum, demonstrated great enthusiasm. Their eagerness to discuss and pose questions led to interesting discussion with the guest speakers, trainer and the organisers. The goal of the organisers of the East Atlantic Flyway Youth Forum was to give the young participants the incentive to put their newly gained knowledge and skills from the training into action. Thus, forum participants are given the opportunity to apply for a small CEPA grant to implement activities along the flyway within the framework of World Migratory Bird Day. Further updates on these activities will follow in autumn.
The East Atlantic Flyway Youth Forum is a collaborative effort between multiple organisations. In 2022, the forum was organised by the Common Wadden Sea Secretariat in collaboration with Migratory Birds for People (represented by the Wildfowl and Wetlands Trust) and Youth Engaged in Wetlands. The 2021 Forum led to a cohort of Flyway Ambassadors, who continue to advocate for more youth engagement in flyway conservation along the East Atlantic flyway.