Dutch show on migratory birds premieres in German school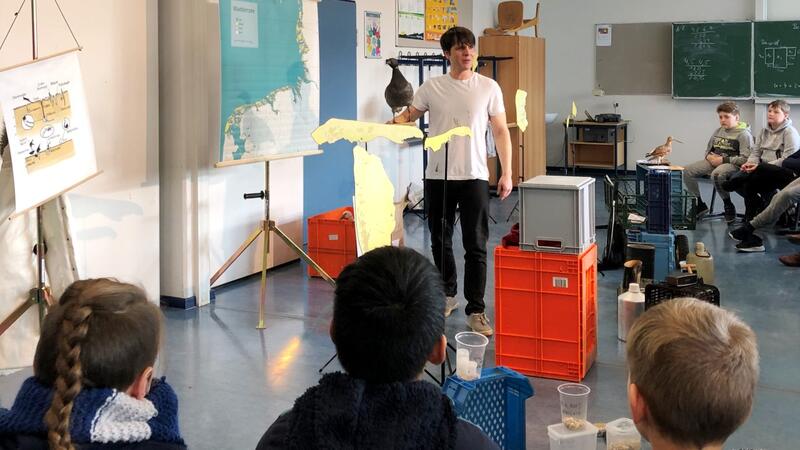 On November 22 the Frysk-Dutch show Kanoet, which from now on goes through life as red knot, premiered in a German edition at the Oberschule primary school in Bunde in Germany - just across the border at Nieuweschans, Netherlands. Together with Landesbühne Niedersachsen Nord, Pier21 translated the educational show about the Wadden Sea and its iconic bird into German. Frank Fuhrmann took over the direction of "Knutt".
Vasilios Zavrakis (Knud) is the main character in Kanoet. Knud is preparing a presentation by his father about Wadden birds. He has already prepared all the stuffed birds and stuff from the mudflats, but his father does not show up. Knud is alone. He tries - with the help of the children from the audience - to tell the story of his father as well as possible. Fortunately, his father taught him a lot, and in the end he comes into contact with his father in a surprising way.
The German show "Knutt" is co-financed within the framework of the INTERREG V A Programme Germany-Netherlands with funds from the European Regional Development Fund (ERDF) and by the provinces of Drenthe, Fryslân and Groningen as well as the state of Lower Saxony.
Last theater season, Pier21, together with Garage TDI, developed and played the youth performance Kanoet in Frysk and in Dutch in the Northern Netherlands. It is a performance about the Wadden Sea, the wading birds and the importance of protecting this vulnerable area. The show was developed in collaboration with the Wadden Sea research team of Theunis Piersma at the University of Groningen and NIOZ Texel.