Wadden Sea World Heritage brings sustainable tourism talks to ITB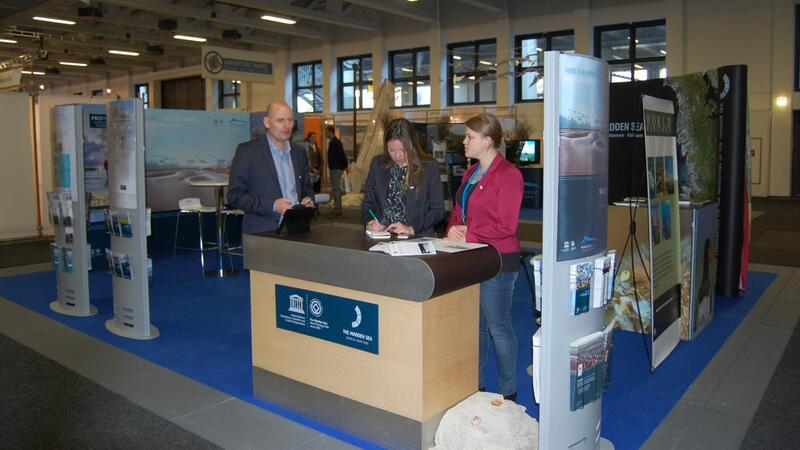 Sustainable tourism – main theme of the Wadden Sea World Heritage booth at Berlin's ITB – will form the focus of various talks and workshops. In cooperation with the UNESCO World Heritage and Sustainable Tourism Programme, the Wadden Sea World Heritage has created a varied experts' programme on sustainable tourism at World Heritage sites. The events will be held during the trade visitor days at the ITB, 8 – 10 March 2017, in hall 4.1.b, booth 228.
"As sustainable tourism is a broad subject with many facets, we are approaching three specific aspects of the topic to promote in-depth discussions: the young generation, communication, and birding", explains Anja Domnick, Project Officer Sustainable Tourism Strategy of the Common Wadden Sea Secretariat (CWSS).
The programme kicks off on Wednesday, 8 March, with three workshops focussing on education and communication at World Heritage sites. The World Heritage Trainees and the German Commission for UNESCO will look at the contribution the young generation can make to protecting World Heritage sites. The Young Heritage Experts and Zentrum Welterbe Bamberg will talk about the impact of social media on World Heritage sites. Nils Stegmann of Tourismus-Akademie Nordwest e.V. will present approach to capacitiy building for gastronomy and tourism at the Wadden Sea World Heritage site.
On Thursday, 9 March, sustainable development strategies at World Heritage sites will be the focus of a round table. Panellists are Harald Marencic, Deputy Executive Secretary, CWSS, Mariagrazia Santoro and Marcella Morandini, President and Director of Fondazione Dolomiti UNESCO, as well as Peter Debrine, UNESCO World Heritage and Sustainable Tourism Programme.
On Friday, 10 March, CWSS tourism expert Anja Domnick will deliver a keynote to the 12th PowWow at the ITB's adventure stage, followed by a masterclass showcasing the Wadden Sea Flyway Initiative. Specialists from Sierra Leone, as well as from the Danish, German and Dutch Wadden Sea regions will discuss linking bird watching and tourism. The masterclass is accompanied by workshops on migratory birds and linking conservation with tourism. The workshops will take place at the Wadden Sea World Heritage booth.
"We are very excited to have attracted such a large pool of experts", says Rüdiger Strempel, CWSS Executive Secretary. "Sustainable tourism is on the rise, but there are still many aspects to discuss to successfully combine tourism with nature conservation. I am especially grateful to our colleagues from Sierra Leone, whose participation testifies to their immense dedication to the protection of migratory birds and to the Wadden Sea Flyway Initiative."