Wadden Sea Day: Understanding connections between species essential to Wadden Sea's management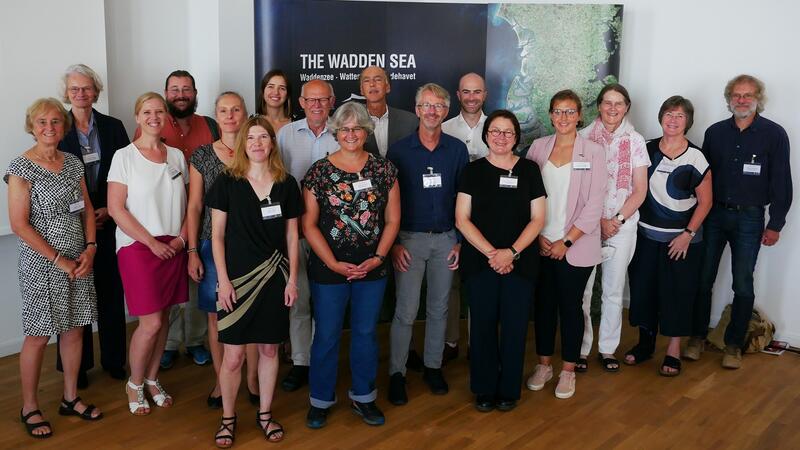 Climate change and other human activities influence the occurrence of species and their structure in the Wadden Sea. Given the importance of the Wadden Sea World Heritage for global diversity, it is vital to study the relationships between species in the food web, to consider them in their entirety and to understand how human activities change these relationships and the functionality of the entire ecosystem. In other words, we need to have a closer look at "Who eats whom" and what consequences this knowledge has for the management of the Wadden Sea World Heritage. This question was at the centre of this year's Wadden Sea Day, held on 25 August in Wilhelmshaven. With 100 policymakers, conservation managers, scientists and partners from non-governmental organizations working in the field the event was fully booked.
"We need to consider connections between species to manage the Wadden Sea as one entity", says Prof Dr Karin Lochte, Chairperson of the Wadden Sea Board, who opened the day of scientific exchange. "In the Wadden Sea food web all species are interlinked by their need to find enough food. If one species is declining or missing, others relying on this species for food may suffer as well with possible consequences for the entire Wadden Sea ecosystem." Primary producers like plants and microorganisms turn energy into organic matter. Species on the next trophic level like lug worms, snails or mussels rely on this organic matter to survive. They themselves are food for small predators like carnivorous fish, which in turn are eaten by birds, harbour porpoises, or seals.
For a perspective beyond Wadden Sea borders, keynote speaker Dr Nathalie Niquil of the French National Centre for Scientific Research presented her work on food webs at the French coast. "Climate change, in particular through rising temperatures, is putting undeniable pressure on our biodiversity", says Niquil. "The effects can be seen in changes in the distribution of species as well as in changes in processes, such as photosynthesis or species growth, resulting in a change in the functioning of ecosystems. Studying food webs, i.e. the network of exchanges between preys and predators makes it possible to research how these effects combine with other pressure factors linked to human activities such as fishing, pollution or the modification of marine habitats."
Dr Sabine Horn of the Alfred Wegener Institute, Helmholtz Centre for Polar and Marine Research summed up the regional perspective with her keynote speech. "The Wadden Sea food web is a complex system providing goods and services to humanity. Impacts such as rising temperature, introduced species and habitat degradation cause severe changes in its structure and functioning.", says Horn. Overall, nine presentations provided insights on these trophic levels of the Wadden Sea food web, from primary production to top predators.
The day concluded with a celebration of the Agreement on the Conservation of Seals in the Wadden Sea (Wadden Sea Seal Agreement/WSSA), which entered into force 31 years ago, on the 1st of October 1991. "As top predators in the food web, seals play an essential role in the Wadden Sea ecosystem", says Bernard Baerends, Executive Secretary of the Common Wadden Sea Secretariat. "However, they are also threatened by many human activities in the Wadden Sea and thus require special protection." The agreement's goal is to achieve and maintain a favourable conservation status for the Wadden Sea harbour seal population through close collaboration in research and monitoring and by increasing the public awareness as an integral part of this ecosystem. "With steady populations of some 39,500 harbour seals and 9,000 grey seals, our protection efforts on basis of this agreement have been proven a success", concludes Baerends. Due to the pandemic, a celebration in autumn 2021 was not possible.
The Wadden Sea Day has been jointly organised by the Common Wadden Sea Secretariat and the Lower Saxony Wadden Sea National Park Authority since 2006.