5-year Interreg project MANABAS COAST on coastal protection kicked off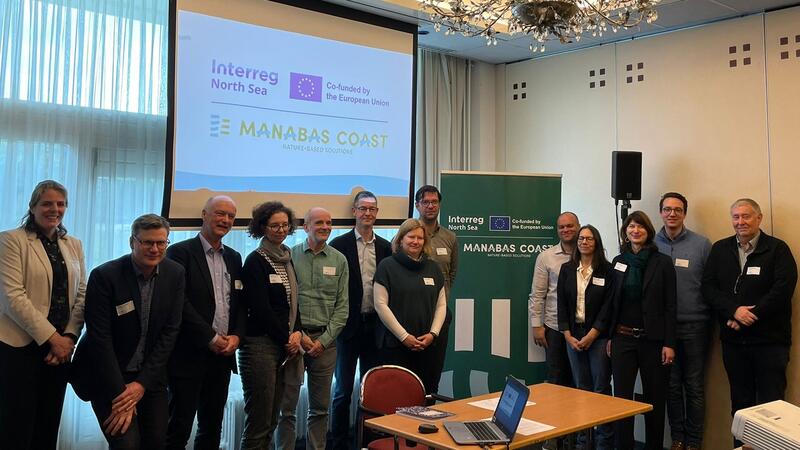 Interreg project MANABAS COAST was officially kicked off in The Hague, Netherlands, on 13-14 March 2023. Funded by the North Sea Region Programme, MANABAS COAST intends to set the stage for widescale application and implementation (mainstreaming) of Nature-based Solutions (NbS) in coastal systems of the North Sea Region by developing a proven and accessible framework, tools, guidelines based on pilot examples. In doing so, the project will ultimately enable integrated policies and decision making for the joint delivery of FCERM and biodiversity. Pilot examples reach from Sweden to France and include several cases in the Wadden Sea.
During the Kick-off event, project partners reflected on project objectives and had a lively discussion on the first steps of our journey to mainstreaming Nature-Based Solutions (NbS) for coastal systems. Monique Busnach-Blankers of Rijkswaterstaat, Netherlands, opened the event with an inspiring speech with encouraging words: "We need to build trust and confidence, and a kick-off meeting is the best way to achieve this!" Keynote speaker Kevin House from the UK Environment Agency talked about his experience in managing transitions, highlighting the importance of incorporating NbS in coastal erosion and flood risk management strategies. "We know climate change is happening and we need to change the way we work". Kevin was followed by the official project launch by the members of the Steering Group, pitching their perspective of a successful MANABAS COAST project. The event included a visit to the Sand Motor, one of the project pilot areas. With winds gusting over 50 kilometer per hour, nature provided an outstanding demonstration of its power.
The Common Wadden Sea Secretariat (CWSS) is project partner and member of the project's Steering Committee. It will provide exchange with trilateral bodies and activities, in particular with the Trilateral Wadden Sea Cooperation's Expert Groups Climate Change Adaptation (EG-C) and Salt Marshes and Dunes (EG-SMD). After the kick-off meeting, CWSS also joint the first meeting of the Policy Reflection Group of MANABAS COAST in Brussels, Belgium, on 15 March 2023. This Policy Reflection Group will reflect on and add to the framework for mainstreaming NbS.