Wadden Sea Flyway Initiative supports initiative from Guinée Ecologie in Guinea for World Migratory Bird Day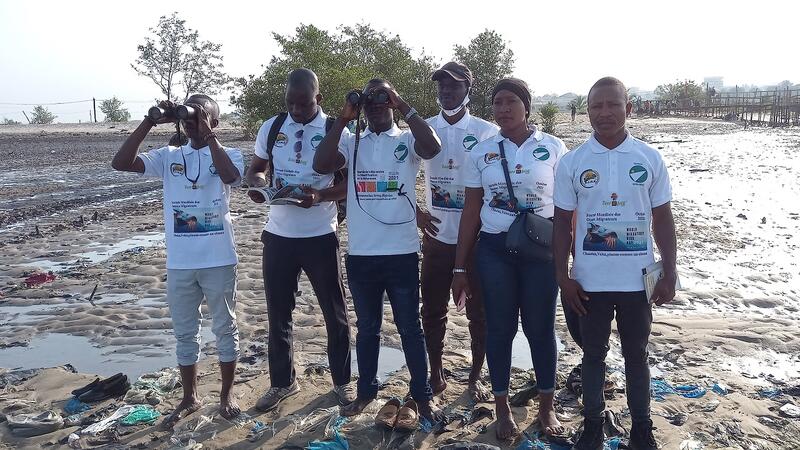 Each year, World Migratory Bird Day is celebrated in May and October to highlight the need for international collaboration to ensure the conservation of migratory birds and their habitats on a global scale. The Wadden Sea World Heritage site is one of the key wintering and stopover sites along the East Atlantic Flyway. Around 10 million migratory birds visit the area each year to refuel their energy reserves on the saltmarshes and mudflats which make the Wadden Sea so unique. However, to protect this natural phenomenon we need to work closely with partners from along the flyway. World Migratory Bird Day is an effective tool to raise awareness and inform the world about the threats to migratory birds, their ecological importance and the need for international cooperation for their protection.
Thus, for this year's World Migratory Bird Day, the Wadden Sea Flyway Initiative supported an initiative from Guinée Ecologie in Guinea. The event started with an information session on migratory birds: the threats they are facing, the legal instruments for their protection as well as the need to take a 'flyway approach' and collaborate internationally. The participants showed great interest in the presentations and discussion ensued regarding migratory routes, seasonal stays, the contributions of the presence of birds in the host ecosystems as well as the threats to them in the areas they frequent in Guinea. This kind of active engagement is needed to increase the general understanding for the need to protect migratory birds.
Subsequently, the participants were taught how to observe and identify a bird without disturbing the animals, using different observation tools. The newly learned skills were tested during an excursion to the nearby sites. Hopefully we will see some of the participants in the next flyway counts in January.